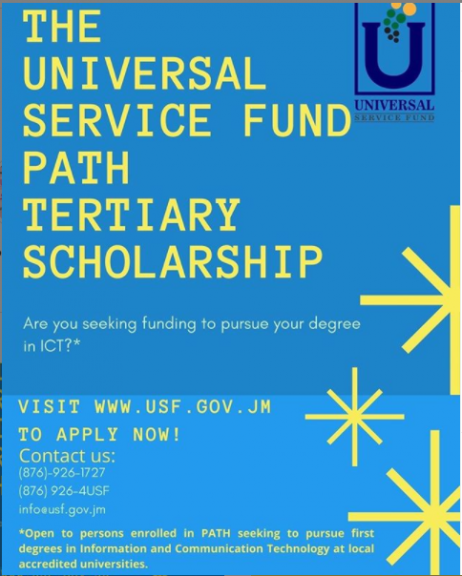 Purpose
The purpose of the USF PATH Scholarship is to provide University scholarship awards to students who are seeking to pursue a first degree at a local university in an information and communications technology field. The Scholarship is open to secondary students who are enrolled in PATH (Programme for Advancement Through Scholarship and Education).
Selection Criteria
Demonstrated or expressed interest in ICT research and/or computer science education.
Student essay
Letters of recommendation
Application Requirements
To be considered for this Scholarship Award, applicants must be registered to PATH and complete an application and return it to USF. The application must include:
A completed application form. Only completed application forms will be considered.
Two references with at least one from a teacher or school official at the secondary level.
An official high school transcript for the last two years.
A one page (< 300 words) statement stating why they have chosen to study ICT and how they hope to contribute to national development after completing their studies.
All four of the above items must be submitted before the application will be considered.
Submission of Application Form
The application form starting on page 3 is a fillable pdf file. Fill it out completely electronically, then "Save a Copy". Note that the application requires a signature. You may provide an electronic signature, or print out the completed application, sign it and either scan it as a pdf or mail in the printed application.
N.B. see attached file for section D .