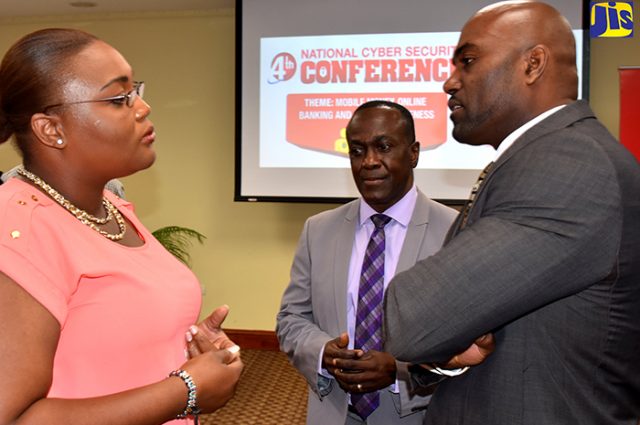 In a drive to facilitate greater Internet access to Jamaicans, the Government will continue to roll out free secured Wi-Fi hotspots in popular public places across the island.
The initiative is being made possible through the Universal Service Fund (USF), an agency of the Ministry of Science, Energy and Technology, which will carry out the installation in the select locations.
So far, the popular heritage site, Devon House, has been provided with the free service.
This was noted by Minister of Science, Energy and Technology, Dr. the Hon. Andrew Wheatley, during the fourth staging of the National Cyber Security Conference at the Regional Headquarters of the University of the West Indies, Mona, on November 29.
Dr. Wheatley said the service will also be rolled out in Half-Way Tree and Emancipation Park in Kingston; Spanish Town, St. Catherine; Montego Bay, St. James; and Ocho Rios, St. Ann, as well as rural centres across the island.
"As a Government, we recognise that we have to embrace technology and as we improve the way citizens do business on the Internet, the Government has committed to removing the barriers to facilitate use of these fantastic services, especially as it relates to citizen-to-Government interactions," he said.
Dr. Wheatley added that other measures include zero-rated access to Government websites and content, the Tablets in Schools initiative, as well as the Smart City initiative, which will be piloted in the New Kingston area.
He said the Smart City initiative will be rolled out in the latter part of 2017, with persons who live and work in the area finding themselves plugged into technology grids for the seamless delivery of services.
In the meantime, he urged Jamaicans, particularly children, to be vigilant with cybersecurity issues, such as hacking, identity theft, cyberbullying, among others.
The Minister said the Government has collaborated with several agencies to undertake public-education campaigns, such as the Jamaica Bankers Association and the Jamaica Constabulary Force.
More than one million Jamaicans are online. The total number of mobile subscribers grew by 3.9 per cent last year to 3.3 million persons.
The two-day conference was hosted by the Caribbean Institute of Media and Communication (CARIMAC), University of the West Indies, under the theme 'Mobile Money, Online Banking and Citizen Awareness'